Level Up Your Corporate Event Catering Options With Sharebite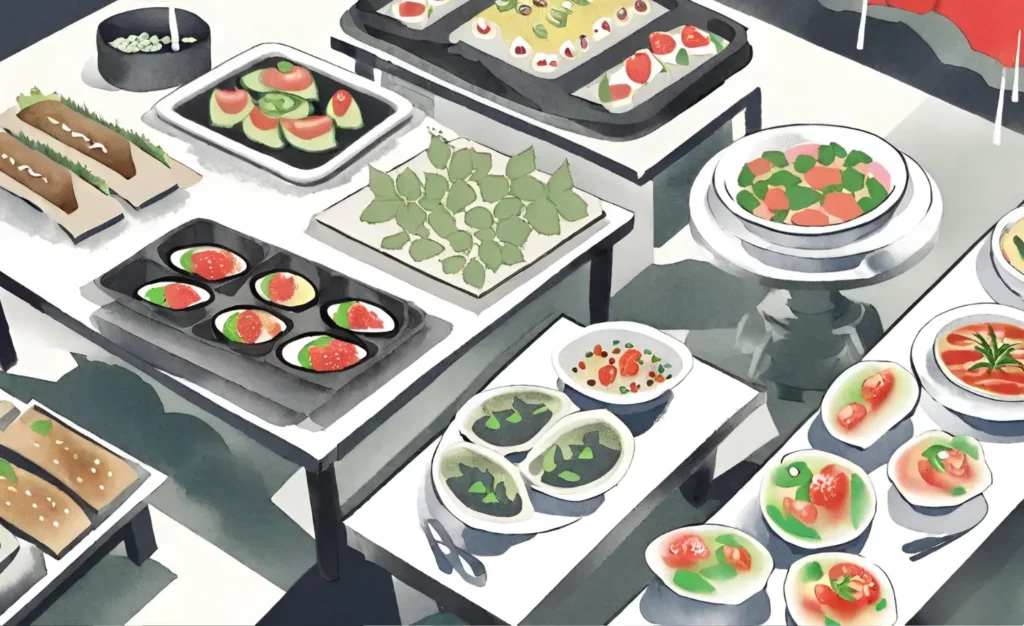 Corporate events are a great way to boost employee morale, celebrate achievements, impress clients, and promote your brand. However, planning and executing a successful corporate event can be challenging, especially when it comes to catering. You want to provide delicious, nutritious, and diverse food options that suit everyone's preferences, dietary needs, and budget. You also want to ensure timely delivery and easy setup. That's where Sharebite comes in.
We are one of the leading food benefits platform designed for the modern workforce. Our platform enables companies to easily feed employees and manage meal benefit expense allocation across all levels of the organization. Whether your employees work in offices, remotely, or somewhere in between, we can help you feed them, foster culture, and fuel growth.
Sharebite can handle various types of corporate catering services, including:
Breakfast Catering
Start your day off right with Sharebite's breakfast catering. You can choose from a variety of breakfast options, such as bagels, muffins, croissants, yogurt, fruit, granola, eggs, bacon, pancakes, waffles, and more. You can also order coffee, tea, juice, smoothies and other beverages to keep your team energized and hydrated.
Company Lunch Catering
Make your lunch break more enjoyable and productive with Sharebite's company lunch catering. You can order from a wide range of cuisines, such as American, Italian, Mexican, Chinese, Indian, Thai, Japanese, Mediterranean, and much more. You can also customize your order to accommodate different tastes, allergies, and dietary restrictions, such as vegan, vegetarian, gluten-free, dairy-free, halal, kosher, and more.
Sales Meetings
Impress your prospects and clients with Sharebite's sales meeting catering. You can order from a selection of professional and elegant food options, such as sandwiches, salads, wraps, soups, platters, trays, and more. You can also add desserts, snacks, and drinks to sweeten the deal.
Employee Celebrations
Celebrate your team's achievements and milestones with Sharebite's employee celebration catering. You can order from a variety of festive and fun food options, such as pizza, burgers, tacos, sushi, wings, nachos, cupcakes, cookies, and more. All you need to do is get some balloons, banners, and other decorations to create a party atmosphere along with the good grub.
Client Appreciation Events
Show your gratitude and appreciation to your clients with a special treat. You can order from a range of sophisticated and refined food options, such as steak, seafood, desserts, cheese boards, charcuterie, and more. You can also add beverages to toast to your success.
Convention Catering
Attract and engage your attendees with Sharebite's convention catering. You can order from a variety of convenient and portable food options, such as boxed lunches, sliders, skewers, bites, dips, chips, and more. To take your convention to the next level we recommend sourcing branded napkins, cups, and centerpieces to tie it all together.
Holiday Parties
Make your holiday parties more memorable and festive with Sharebite's holiday party catering. You can order from a variety of seasonal and traditional food options, such as turkey, ham, stuffing, mashed potatoes, gravy, cranberry sauce, pumpkin pie, and more. You can also add eggnog, cider, and other drinks to warm up your guests.
Product Launches
Showcase your new products and services with Sharebite's product launch catering. You can order from a variety of creative and innovative food options, such as themed menus, custom cakes, and more. We recommend also adding music, lights, and other effects to create a special buzz.
Last Minute Corporate Caterings Too
Don't panic if you need to plan a corporate catering at the last minute. Sharebite can help you with its fast and reliable delivery service. You can order from a variety of available and affordable food options, such as salads, sandwiches, pizza, pasta, and more. You can also track your order status with your delivery driver in real time.
With Sharebite, You Can Enjoy the Following Benefits:
Save time and money: Sharebite simplifies the ordering and payment process for corporate catering. You can browse, compare, and order from hundreds of local restaurants and caterers on Sharebite's online platform. You can also set up recurring orders, group orders, and meal allowances for your employees.
Support local businesses and communities: Sharebite supports local restaurants and caterers by waiving all commission fees and providing them with marketing and logistics support. Sharebite also supports local communities by donating a meal to food-insecure families for every transaction on its platform. Sharebite partners with nonprofit organizations, such as City Harvest and Feeding America, to fight hunger and food waste.
Improve employee well-being and satisfaction: Sharebite improves employee well-being and satisfaction by providing them with delicious, nutritious, and diverse food options. Sharebite also improves employee engagement and retention by fostering a culture of appreciation, recognition, and social responsibility.
Have Us Help!
Sharebite is the ultimate solution for your corporate catering needs. Whether you need to cater for a small meeting, a large event, or anything in between, Sharebite can help you make it a success. Contact Sharebite today to get started.