20 Easy Team Meal Ideas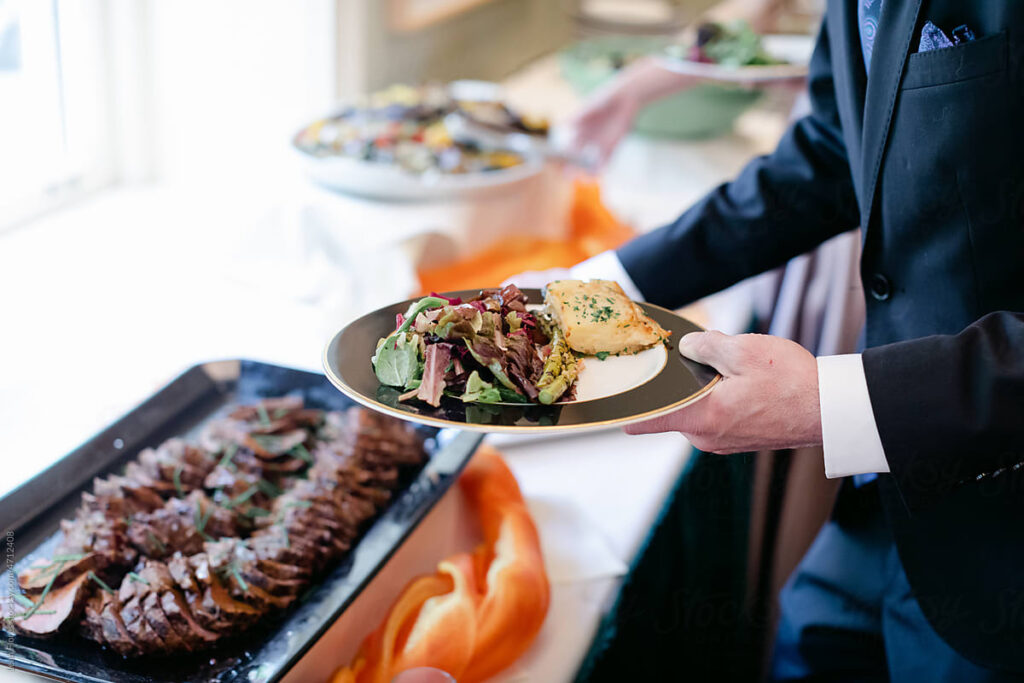 The age-old question of "what sounds good for lunch?" is asked by millions if not billions of people everyday. It seems like a very simple question at its core, however in practice it can be a bit complicated when this question is asked to a larger group. There will be no lack of responses and ideas. Responses can very from sandwiches, poke, BBQ or Philly cheese steaks, but the responses from others can be something along the lines of, "I had this yesterday", "I'm starting a new diet, so I can't have that" or "they put pineapple on pizza, so I can't eat that". Unfortunately this can cause a bit of paralysis in the selection of lunch and these debates can rage on for a bit. This is why we came up with this list of 20 unique and easy team meal ideas that are sure to please the masses.
In a quest to make everyone happy, sometimes there is a bit of compromise with the food choices, but these compromises should be tasty and palatable to all. So without further adieu, here is the list:
Pizza

The simplicity of pizza can make this one of the most versatile choices. Doesn't matter if you have vegans, paleos, people with gluten intolerance or just picky eaters. Pizza can be customized to any of these diets at most bigger pizza chains, but even smaller mom and pop pizza shops are adapting, whether it be offering a gluten-free cauliflower crust option, non-dairy cheese, or sugar-free sauces.

Build Your Own Burritos

Beans, rice, protein, and salsa make a fine burrito. However, if you want a wet burrito, cauliflower rice, squeeze of lime, guacamole and queso, who are we to judge? That's what makes building your own burritos so versatile!

Build Your Sliders/Burger Bar

Burgers are a staple and can be made thousands of different ways with a handful of ingredients and condiments. Even the patties can be made with beef, turkey, bison, chicken, black beans, portobello mushrooms, or there are even various faux meat options as well. If you have a hard time choosing one style, then sliders are your best bet. Make as many mini burgers as you please and taste all the options!

Empanadas

These tasty little stuffed pastries date back to the early 16th century and were featured in a Catalan cookbook from that era. Not to be confused with samosas and calzones but they liked to have a shared history of being a portable hearty meal for the working class. They have evolved over the years to include all sorts of different savory fillings such as potatoes, pork, chorizo, shrimp, street corn, cheese, and beef.

Tapas

Most consider tapas to be an appetizer or a small snack, but don't worry when ordered in large quantities it becomes quite a meal. With a cornucopia of different options, tapas can be a great choice for those feeling adventurous without having to commit to just one dish.

Indian

Curry up now and make sure you don't miss out on all the dishes that come from India. With a large population of vegetarians and Jains, Indian cuisine has some of the most vegetarian and vegan options around. Don't fret though there are still a lot of meat based dishes for everyone else.

Gyros

A staple of Greek cuisine since the 1970s, the gyro (pronounced YEE-ros, Greek for "spin") has been ubiquitous across Greek menus across the US. So what exactly are they? They start as cones of meat that spin around for hours, that are then sliced and folded into pita bread and topped with various meditation staples.

Poke

Did you know that poke has its roots from the Hawaiian islands? With all the different cultures that immigrated to Hawaii, poke became a melting pot of ingredients and cultural flavors. You can get it in a bowl over rice, made into nachos, or even into tacos made with crunch wonton shells. Also you can easily swap out the fish for tofu to make it vegan and vegetarian friendly!

Pasta Stations

We're all family here, when it comes to Italian family-style meals. Typically served in large platters meant for sharing, these larger portions facilitate conversations by everyone passing dishes and comparing notes.

Vietnamese Banh Mi

Fresh baguettes, pickled veggies, and various protein options make bahn mi a great choice. This is a Vietnamese staple and considered one of the original fusion foods, which dates back to the French colonial period.

Ramen

If instant noodles is the first thing that comes to your mind when hearing ramen, you might need to try the real deal. Ramen has evolved from being a popular Japanese street food, to a college dorm room staple and has become an artisanal and convenient dish enjoyed by millions.

Sharable Charcuterie Boards

Instagram worthy displays of cured meats, fresh produce, sweets, cheeses, olives, nuts, dips, and so much more! These sharable boards can be even customized with fresh herbs, flowers, greenery beds and signage to match a color scheme or even align with a company's brand guidelines.

Comfort Food

Sometimes you are craving something that your grandma used to make, whether that be mashed potatoes, pot pies, chicken fried steak, or mac and cheese. This growing trend of comfort food restaurants will scratch that itch!

Baked Potato Bar

Make your baked potato exactly how you want it to be with a slew of various toppings. Those toppings can include cheeses, meats, vegetables, sauces, and herbs. Achieve any flavor profile you want with a little creativity and make it as healthy or as unhealthy as you would like!

Vegan Fast Food

Fast food without cholesterol, what's not to like about that? Over the past few years, many different types of vegan fast food restaurants have been popping up. Don't forget to add that non-dairy milk shake to complete the meal!

Smoothies or Smoothie Bowls

Sometimes we hanker for something on the lighter side. If that's the case, smoothies and smoothies bowls are a great choice. Pack your next order with superfoods like dragon fruit, acai, goji berries, and more.

Hibachi

The ultimate meal with a show! Hibachi dates back over 1200 years, which started out with aristocrats in Japan entertaining their guests with this up close and personal cooking style.

Grown-Up Grilled Cheese

This trend is starting to melt the lines between kids meals and adulting. With hundreds of cheese varieties and ample bread options, it's quite a treat. Coupled with a tomato soup for dipping and it takes this typical kids lunch up a few notches!

Breakfast for Lunch (or Just for Breakfast)

Who doesn't love a good breakfast for lunch? It may seem weird at first, but there are plenty of diners around that are

Desert as a Meal!

Who said you can't have dessert as a meal? Sometimes it is quite alright to splurge, especially if there is something to celebrate about. This can be something as simple as a donut wall, or a mix of cakes, tarts, cheesecakes, puddings, chocolate fountains and ice cream.